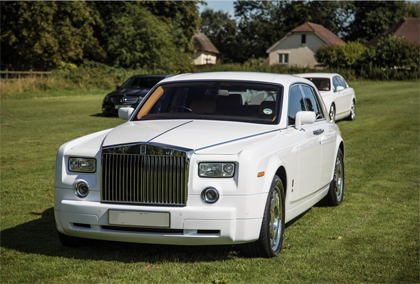 Many UK couples may not realize getting a reliable car hire in London is not the only way to carry off their special day without any problems. What many wedding couples may not think about is how to include their Rolls Royce Phantom wedding hire or any other model of wedding car hire they have chosen. The most luxurious car can be used for more than getting a bride and groom to the church or any other wedding location.  Why not use the wedding car to show off your style and emphasize the importance of your wedding?
Have you ever considered getting a Rolls Royce wedding hire and pushed the idea out of your mind because you thought you could not afford the price tag? However, the price may be worth the cost for a bride to relieve stress and not have to worry about traffic on her big day. Here is a look at four ways couples should utilize their wedding car in London.
Make a grand entrance – What can say elegant like the sight of a Bentley Flying Spur or signal that it is a celebration, at the sight of a Hummer Limousine? Why not use your wedding car hire in London to make a dramatic entrance at your wedding? You can make a good impression before you walk down the aisle and it is fun to show up to your wedding in a limo, Rolls Royce or Hummer.
Make a fast getaway – Once your wedding ceremony is over, many couples may need a breather and space to relax in between wedding and wedding reception. A car hire in London offers plenty of head and legroom, and many chauffeured car hires, used for weddings, include additional benefits. For example, a wedding couple may take advantage of the free bottled water offered during the day. They also do not have to worry traffic will cause them to be late getting to the airport to make a honeymoon flight. A hired chauffeur can get the happy couple to their destination safely and quickly, without any hassle.
Airport transfers – If you are planning a destination wedding, you may need a Hummer Limo or white Mercedes, white Bentley Flying Spur, or Rolls Royce Phantom wedding hire and chauffeur to meet you at the airport. It may help anxious couples to resolve the 'butterflies' before the wedding ceremony. Letting a licensed chauffeur drive means that couples do not have to worry about the transportation logistics and they can relax after a long flight. A trained driver can get them to their hotel without any worries. Couples may save some on the cost of transporting guests, too, depending on what type of vehicle they book for their wedding plans.
Rehearsal dinners – Why not use a wedding car hire in London before your special day? Many couples have rehearsal dinners and it is more convenient to be able to have a 16-seat Hummer Limo to transfer all the family members to dinner location at once. A couple does not have to worry about anyone getting lost.
A wedding car hire is an essential part of any wedding. With media hype like TV programmes dedicated to weddings and celebrity weddings, everyone wants the best for their big day, we all want to arrive in style and leave a profound impression on their guests! Chauffeur Ride is a dominant supplier of modern day wedding cars.